For those of you who don't know what BTTA is, here's the lowdown: It's short for Blogs To Talk About. For whoever is interested can e-mail me at stephinwonderland49@gmail.com and in the subject put BTTA or Blogs To Talk About, and in the message put your name and a link to your blog for me to check it out. Then I will contact you and send you a list of questions and when you respond I will set up a post. So, if you are interested in it, send me an e-mail! For past BTTAs go HERE
Blog Name:
I Like These Books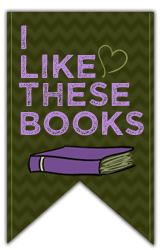 What's the story behind the blog name?
Ahh… Ever since I have become serious about my blog, I have wanted to change my name. The "I Like These Book" name was the first thing I thought of, and I've never liked it. But then I started to get more followers, I was blurbed in If I Tell, and as more people became aware of "I Like These Books" I've gotten more afraid of changing the name. I am still thinking about doing so, what do you think? I would keep the same URL to avoid confusion.
Why did you start to book blog and how long have you been book blogging?
* Looks away * I told the story of how my blog began during my post series for my first blogoversary (

http://www.ilikethesebooks.com/search?q=blogoversary

) and it is so embarrassing that I try to never repeat it. But I will for you guys! (Wow, look at me being all nice). I created my blog originally to get extra points in a Beautiful Creatures contest hosted by ReadingTeen.net. I know, I know, this is terrible! If you go through my post history, you will see that my motives quickly changed. The contest got me to create my blog (which I did not win by the way), but the amazing blogging community and my newfound love of books got me to continue it. So… we can just forget how this all started… right? I've been blogging for two years now, my third blogoversary is in September.
Where is your favorite place to read?
My bed! Although, I wish I could say something else, as I do often fall asleep and end up wasting the rest of my day in a nap.
Hardcopy all the way. I used to be one of those people who claimed I would never buy an e-reader. Technically I still haven't bought one, but I did ask and receive one for my birthday. However, I only read galleys and manuscripts on it, I have yet to actually buy a book for it. An e-reader just isn't the same. I like the feel of a book, seeing the pages on the right decrease and getting excited for the ending. Like most book lovers, I even enjoy the smell of a book. An e-reader is good for trips (I will be taking it with me for my year abroad in London), but it doesn't come close to the experience of reading an actual copy of a book.
Favorite book of all-time and why?
I can't answer this! I am tempted to say Twilight (the saga – gasp! Yes, I am one of those) or Beautiful Creatures, but I like those books for reasons other than them being the best written. I can make fun of Twilight probably more than a hater, but I still love them. They got me to read again, and that is a feat when those books are freaking monsters. I say Beautiful Creatures for similar reasons. They are not the best written novels, it's true, but they greatly inspired the continuation of my blog and got me to start reading obsessively.
But if we're going with all-time favorite… I'd have to go old school with either the Spiderwick Chronicles or A Series of Unfortunate Events. Those two series are awesome, and are even better re-read now that I'm older.
Do you have any blogs/bloggers that you look up to or that inspire you (feel free to name-drop)?
Of course! I love Icey Books, we co-host the yearly Standalone Reading Challenge (which everyone should join!) and the Reading Road-Trip in July. She is so nice, her design skills are amazing and her blog content is fabulous. Even though this isn't a book review blog, I quite enjoy Epic Reads. Those girls are hilarious and they come up with the best content. I really enjoyed their recent interview with Megan Shepheard (The Madman's Daughter) when they had her name each character's favorite tea. Bewitched Bookworms is another that comes to mind.
What do you like to do in your free time?
What free time? Although my family would like to claim I do nothing all day, I feel like I'm juggling three jobs between High School, my editorial internship with Spencer Hill Press and my blog. Although fun, those can be tiring. But, when I am graced with blessed time to do whatever, I really enjoy baking. I'm also an obsessive pintrest user, which is why I just ordered 250 paper jello shot cups. I'm probably the only teenager who would use those to make mini cupcakes, but I'm okay with that! They are going to be so cute and delicious!
Name a dessert, a color, a drink?
Easy! Chocolate lava cake, purple, black tea (or kombucha)!
If you could be one character, who would you be and why?
Honestly, I would want to be some random Ravenclaw house member in Harry Potter. I would love more than anything to experience that world, but the main characters have to deal with a lot of strange and dangerous things. I'm really not up for that!
How many books (on average) do you read a month?
This number has gone down so much recently. I used to read about 12, but sadly it has decreased to 5 or 6, 8 on a good month.
What are your favorite book-to-movie adaptations? Why?
Harry Potter! This is really the only adaptation I have loved. Yes, it changes the books, but it keeps their essence their. I do enjoy the Twilight adaptations, but there are so many unintentionally awkward and laughable scenes that I can't include it in my favorites.
Do you have any book boyfriends? If so, name them and explain why?
My book boyfriends are fleeting. I quite enjoy them in the story, but I don't care for them later. I haven't found one recently to name.
Name 5 books that everyone should at least read once:
I think there are different books for different people, not necessarily five that everyone will love. But I'll try to name some for the sake of the question…
Thirteen Reasons Why
by Jay Asher because it will change the way you think about other people.
Twilight
, so if you love it – yay! And if you hate it, at least you can present a compelling argument instead of claiming to hate it when we all know you are just following the status quo!
Your religious book, if you have one. I have not read the bible, but I plan to! I am really not all that religious, but it seems ridiculous for me to claim to be one religion when I haven't even read. With the bible especially, it is mentioned so many times in literature that I feel like it will make my experience as a reader more meaningful.
Time Between Us
by Tamara Ireland Stone because it is awesome. This book is seriously beautiful and I love it.
The Great Gatsby
because it is the only "adult" book that I love. I plan on re-reading it before the movie comes out which I am SO excited for.
A young adult book editor.
What book are you most looking forward to reading?
I'm looking forward to so many! The first to come to my head is Shades of Earth by Beth Revis – I need to know how that series ends!
Britta, It was so great getting to know you! I also love The Great Gatsby! I also agree with you on the religious book, I need to do that as well because I see so many allusions to the Bible in other literature and I'd love to read about those allusions! :]
Related Posts