So, a couple of weeks ago, In Wonderland decided to take on the 2016 YA Mystery Challenge and if you noticed, we will also be doing some read alongs to go along with the challenge (if you participate in the read alongs, you get extra entries into the giveaways). So we need you to help us out and vote for what will be the Read Along pick for February!
Read With Us in February!
Voting will be open until January 29th and we will post on January 30th what the pick was! 🙂
Don't forget to sign up if you want to participate in this challenge! I think we could all use a little more Mystery, Thriller, or Suspense to our lives! 🙂 Sign Ups are still open and will be open for quite some time. But you can't win any giveaways unless you are a participant! Click the button below to sign up!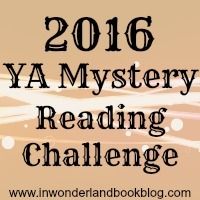 Related Posts