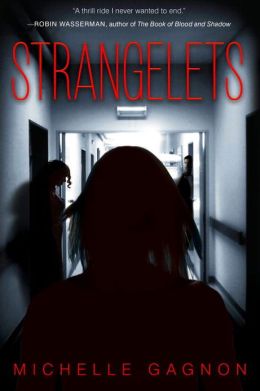 Title: Strangelets
Author: Michelle Gagnon
Series: N/A
Publisher: Soho Teen
Release Date: April 9 2013
Source: eCopy
Average Rating: 3.42
17-year-old Sophie lies on her deathbed in California, awaiting the inevitable loss of her battle with cancer…
17-year-old Declan stares down two armed thugs in a back alley in Galway, Ireland…
17-year-old Anat attempts to traverse a booby-trapped tunnel between Israel and Egypt…
All three strangers should have died at the exact same moment, thousands of miles apart. Instead, they awaken together in an abandoned hospital—only to discover that they're not alone. Three other teens from different places on the globe are trapped with them. Somebody or something seems to be pulling the strings. With their individual clocks ticking, they must band together if they're to have any hope of surviving.
Soon they discover that they've been trapped in a future that isn't of their making: a deadly, desolate world at once entirely familiar and utterly strange. Each teen harbors a secret, but only one holds the key that could get them home. As the truth comes to light through the eyes of Sophie, Declan, and Anat, the reader is taken on a dark and unforgettable journey into the hearts of teens who must decide what to do with a second chance at life.
Excerpt:
Chapter One
Palo Alto, California, USA
Sophie Page felt herself getting closer. Every inhalation drew further apart from the previous one until there were measurable gaps between them. She could almost picture the breaths strung like beads on a necklace, stretching off into the distance, growing more isolated from one another as they approached the horizon. Her heartbeat followed suit, slowing until she only felt an occasional tap against her ribcage.
It was easier than she'd expected, letting go. Sophie was vaguely aware of her parents standing on either side of the hospital bed, gripping her hands tightly as if that alone could tether her to earth.
About the Author:
Michelle Gagnon is a former modern dancer, bartender, dog walker, model, personal trainer, and Russian supper club performer. Her bestselling adult thrillers THE TUNNELS, BONEYARD, THE GATEKEEPER, and KIDNAP & RANSOM have been published in North America, France, Denmark, Spain, Argentina, Norway, Sweden, Finland, and Australia. BONEYARD was a finalist for a 2009 Daphne du Maurier Award for Excellence in Mystery/Suspense.
Related Posts