For those of you who don't know what BTTA is, here's the lowdown: It's short for Blogs To Talk About. For whoever is interested can e-mail me at stephinwonderland49@gmail.com and in the subject put BTTA or Blogs To Talk About, and in the message put your name and a link to your blog for me to check it out. Then I will contact you and send you a list of questions and when you respond I will set up a post. So, if you are interested in it, send me an e-mail! For past BTTAs go HERE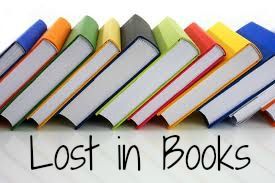 What's the story behind the blog name?
I like getting lost in stories so it seemed like an apt name, plus an easily identifiable one.
Why did you start to book blog and how long have you been book blogging?
I started in January of 2009. I ran across an article by Karen Ballum aka Sassymonkey on Blog Her where she talked about book blogging. That was the first time I'd heard of it. I began reading her blog, finding others and reading them. I soon felt compelled to share my thoughts about books, too, so I began Lost in Books. Reading is a fun activity all on its own, but when you can share that passion with others with the same passion, it enriches the experience that much further.
Where is your favorite place to read?
Either curled up in bed or by the swimming pool in the summer.
E-book or Hardcopy? Why?
I actually love both. I like the flexibility of e-books. I can take my Kindle anywhere and read books while waiting to get my car's oil changed or at the doctor's office. I can't lug around The Wind-Up Bird Chronicle by Haruki Murakami because it's 600 pages. But if it is on my e-reader, I can.
On the other hand, an e-reader will never compare to the feel of a book in my hands. That's what I first fell in love with and that will always be my favorite way to read. There's something about the heft of it in my hands, turning each crisp page, seeing them on my bookshelf just begging to be read next. Sometimes Murakami begs to be read via paperback.
Favorite book of all-time and why?
I hate this question. Does any ferocious reader have just one favorite book? Because I don't. But I will give you just two. It's the best I can do.
J
One is The Poisonwood Bible by Barbara Kingsolver. This is the book that really launched me back into reading after a pretty substantial hiatus of pleasure reading for 7 years. It's one of less than a handful of books that I have read twice as an adult. It's about a family who follows the missionary husband/father to the 1960s Congo where the people and the land end up teaching the members of the family more than they teach them.
Another is F. Scott Fitzgerald's The Great Gatsby. It's just a phenomenal book. On the surface it's just a story about superfluous characters in a time of decadence and situational indifference. On a deeper level, it is a story about class warfare, about romanticism, about consequences, about whether we can relive the past, about how sometimes the truth can seem to be on the surface but is actually hidden. It's full of subtle nuances and makes you ask yourself questions.
Do you have any blogs/bloggers that you look up to or that inspire you (feel free to name-drop)?
This list is substationally
long, but one is my friend Tasha from Truth, Beauty, Freedom, and Books (
http://heidenkind.blogspot.com
) because she makes the cleverest connections between books and other things like cocktails or films and she manages to make her wittiness come across much better than I can.
What do you like to do in your free time?
When I'm not reading or blogging, I like to write, watch movies, practice yoga, go to the gym, and sketch. I also like to go to the shooting range when I can afford it. I am terrible right now but feel like a badass the better I get at it. It's pretty empowering.
Name a dessert, a color, a drink?
Chili's Chocolate Chip Paradise Pie, Yellow, Mai Tai
If you could be one character, who would you be and why?
Nefertari from The Heretic Queen by Michelle Moran. She is an outcast when she is young because of what her family did, she then reinvents herself and comes back to the palace stronger than ever and wins the heart of the Pharaoh and then the people. She overcame obstacles in her path to be a leader, marry her true love, and find redemption. Pretty badass. Plus, she lives in Ancient Egypt and I'm obsessed with Ancient Egypt.
How many books (on average) do you read a month?
Depending on how long they are and how many I am reading at a time (which is never less than 2-3) I read anywhere from 7 to 10 a month.
What are your favorite book-to-movie adaptations? Why?
Girl with the Drag
on Tattoo (both versions)
The Swedish version has much better casting, especially for the role of Lisbeth. It was also a very good adaptation and captured a lot of good stuff. What I liked about the American film was that it ended as the book ended which is something I really like when a book is made into a movie. I want it to have the same effect on me as the book did when I finish it.
Do you have any book boyfriends? If so, name them and explain why?
Mr. Darcy because it's Mr. Darcy.
Name 5 books that everyone should at least read once:
The Great Gatsby by F. Scott Fitzgerald
Pride & Prejudice by Jane Austen
A Woman of Independent Means by Elizabeth Forsythe Hailey
Anne Frank: The Diary of a Young Girl
The Color Purple by Alice Walker
What is your
dream job?
Early Childhood Educator (which is what I did until I became too sick to work)
Children's Book Author (which I am working on now!)
What book are you most looking forward to reading?
I'm assuming you mean that hasn't been released yet. Again, I can't name just one. I really, really want to read:
And the Mountains Echoed by Khaled Hosseini
In the Shadow of the Banyan by Vaddey Ratner
Escape from Eden by Elisa Nader
Thank you so much Becca for letting us get to know you! It was such fun!! The Great Gatsby is definitely one of my favorites as well!! I can't wait to see the new movie! But I want to reread the book before I go see it! And you're right, it's simply too hard to choose just one book as your favorite. lol. My bad. :]
Related Posts